Modified on: 23/08/2022
Here's how to use a calculator for decomposed liquids
If you are thinking of using an e liquid calculator to know the exact doses of each ingredient to compose your diy e liquid for electronic cigarette, here you will find the information you are looking for. To dilute the vaping flavours and possibly liquid nicotine in the electronic cigarette base liquid e cig, you will need a little basic knowledge.
Neo-vapers often feel overwhelmed by the huge amount of topics they hear about on Facebook groups, and it happens that confusion takes over. What is important to understand immediately is that you have to go step by step.
Obviously, nothing prevents you from buying and using decomposed e liquids for e-cig even if you are new to the world of vaping: what you need in fact is just a few tips. The vape base liquids of Terpy, for example, are easy to use even for neo-vapers and in this article we will explain why.
But let's start with some small initial points of reference that are good to have to better understand how to mix a decomposed liquid for e-cig. We want to start right from the base, so as not to miss any concept or step, so let's talk about the neutral base, also called e cigarette liquid base or e liquid base.
Read also: Electronic cigarette liquid with nicotine: how to use it if you want to quit smoking
Calculating nicotine on a neutral basis: here's how to do it easily
Before using an e liquid calculator it would be good to know a minimum of the individual components that we are going to mix. The first important concept is that of a neutral base for electronic cigarettes: it is a solution composed of vegetable glycerin and propylene glycol that is vaporized through an atomizer.
The atomizer is that component of the electronic cigarette (it can be interchangeable or integrated into the e-cig in all-in-one systems and in pod mods) in which vaporization occurs. It is connected to the battery of the device, which acts as a motor.
The first choice of a vaper is to vape liquid with nicotine or not: this component can help those people who switch from traditional cigarette to e-cig. However, it is advisable to gradually lower the percentage until it reaches zero.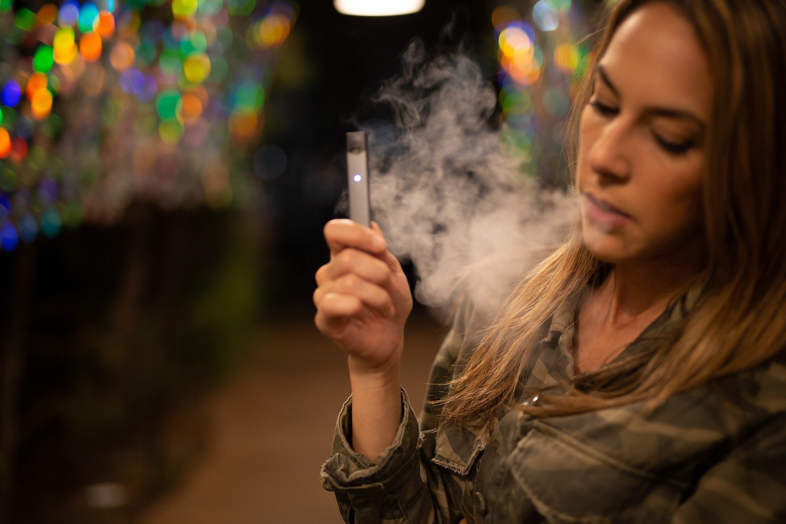 For those who decide to opt for this path, the first thing to do is understand how to calculate the nicotine in the neutral base: do it without puzzling with mathematical formulas is possible. There are reference tables to know the level of nicotine dissolved in a given basic amount. We propose one below:
100 ml neutral base with 2% nicotine: 90 ml of base + 1 bottle of 10 ml of neutral base at 20 mg / ml of nicotine
100 ml neutral base with 4% nicotine: 80 ml of base + 2 bottles of 10 ml of neutral base at 20 mg / ml of nicotine
100 ml neutral base with 6% nicotine: 70 ml of base + 3 bottles of 10 ml of neutral base at 20 mg / ml of nicotine
100 ml neutral base with 8% nicotine: 60 ml of base + 4 bottles of 10 ml of neutral base at 20 mg / ml of nicotine
100 ml neutral base with 10% nicotine: 50 ml of base + 5 bottles of 10 ml of neutral base at 20 mg / ml of nicotine
And so on, up to a maximum of 20% nicotine in the neutral base, a limit set by law in order to protect the health of vapers. Now you know what to do with the bottles of glycol, glycerin, and neutral bases with nicotine that are gathering dust on that shelf. Now let's see how to use an e-liquid calculator for the next step.
Read also: E-cigarette base liquid: 3 risks that nobody tell you about DIY methods
Liquid Calculator: everything you need to know to use it as well as possible
In the previous lines we have seen how to calculate the dilution of nicotine in the electronic base liquid ecig. However, if you want to add delicious vaping flavours to the base, you will need to know the right quantities of the components to use to make it better.
The neutral base dilution percentage of a concentrated flavour is usually recommended by the producer himself: in the case of the flavours, commonly it is 10%.
By the dilution percentage of the flavors you choose, you can calculate the milliliters to use to compose your e-liquid. To do this, you could use a calculator for decomposed liquids: you will find a lot of them in the app stores for smartphones, such as "Liqcalc" or "E-liquid calculator – Vape tool".
However, once the neutral base is mixed, with or without nicotine, it will be quite intuitive to dilute the concentrated flavour in the desired percentage if you respect the standard quantities.
It's not that hard, however we often don't have all the time in the world or the basic material and using a calculator can help. In particular, when you have remnants of flavours or of neutral base, the calculator can save you from complicated proportions! What are you waiting for then? Click here and buy e liquid and the best e cigarette products on the market on Terpy now!