Modified on: 06/12/2022
Here's how to get started with electronic cigarettes: a simple guide for beginners
If you're approaching the world of electronic cigarettes but haven't yet bought vape liquids or tried an e-cigarette, you'll want to know how to start vaping and finally say goodbye to analogue cigarettes.
In fact, the e-cigarette is a smoking cessation device designed for ex-smokers (or potential ex-smokers). It is in no way aimed at those who decide to start vaping without ever having smoked!
Nicotine addiction is a serious matter, and the aim of those who make e-cigarettes and electronic cigarette liquids is to enable people to quit smoking gradually…. Certainly not to create new addictions.
However, to avoid the risk of relapsing into smoking, it is important to know how to use an electronic cigarette in order to get satisfaction from using it and not risk throwing money into the wind.
We, at Terpy, have therefore decided to write a simple guide to vape for beginners to help you and anyone else who wants to quit smoking.
Are you ready? Then sit back, open your eyes and get ready to read!
Electronic cigarette: how to get started and how it works
If you want to know how to start vaping, you first need to know how an electronic cigarette works, and then you need to know what you need to vape.
Let's start by saying that an e-cigarette is an electronic device that mimics the gesture of a classic cigarette smoker: the vaper puts the device to his lips, inhales the vapour (which has a consistency and looks similar to smoke) and finally exhales.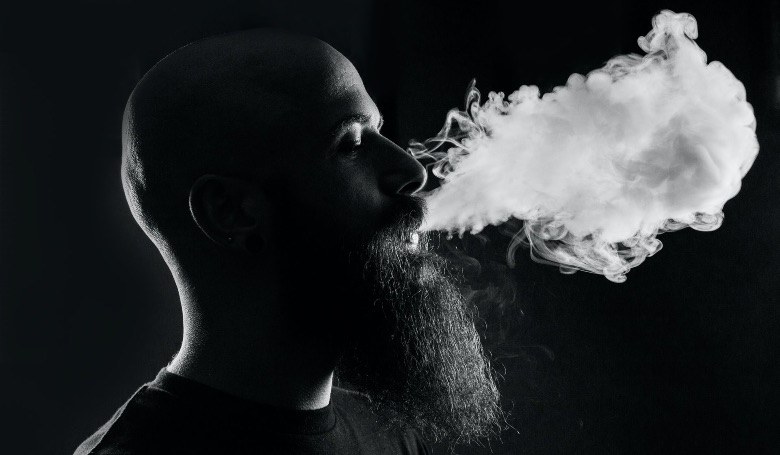 The difference is that an e-cigarette heats and vaporises liquids with or without nicotine, so-called vape liquids, without combustion.
This feature prevents the user from introducing more than 4000 toxic substances – 400 of which are carcinogenic – produced using combustion into their body, while at the same time not experiencing nicotine withdrawal, which can cause an ex-smoker to relapse into smoking!
Gestures are also important in this context: vaping has now become a social gesture that allows you to have a conversation with friends as well as maintaining the habitual gesture of bringing a cigarette to your lips every now and then.
That being said, here's what you need to start vaping:
A super easy-to-use e-cigarette. Your first e-cigarette shouldn't send you into a tailspin but should be a device that you can set up in seconds/minutes and use just as easily. The best electronic cigarettes to start vaping are usually pod mods (like the Wismec R-40) or lightweight and handy tube devices (like the iJust Mini or the eGo AIO) in complete kits.
Electronic cigarette liquids with nicotine (in varying amounts), flavoured and ready to use. It is better to start with medium amounts of nicotine, for example, 10 mg/ml.
Replacement resistors (head coil). The resistor is an essential part of the e-cigarette that you need to change regularly, usually once a week.
How to use the e-cigarette for the first time?
When you use an e-cigarette for the first time, you need to prepare the device by washing it well in all its parts (learn how here) to remove all manufacturing residues.
Then, you need to assemble it according to the manufacturer's instructions, charge it and, once ready, fill it with the e-cigarette liquid of your choice. There are many flavours to choose from, but the main categories are as follows:
Tobacco liquids
Creamy liquids
Fruity liquids
Special liquids
The easiest to use devices have a top refill system, as in this picture showing how to refill an iJust Mini Kit: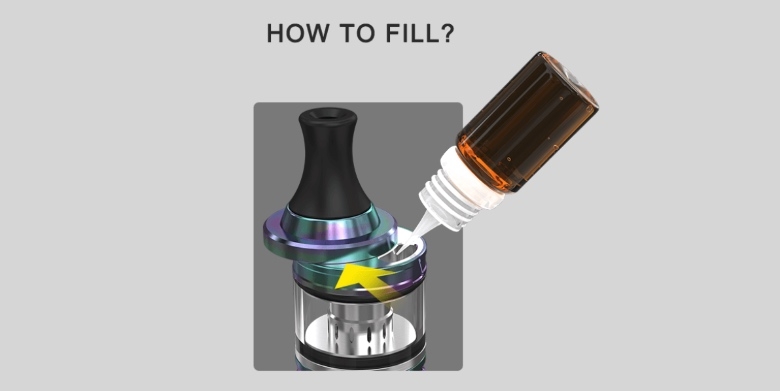 What to do when the tank of the electronic cigarette is full of liquid? Nothing simpler than that: click on the button and, while holding it down, start sucking. Then let the vapour out of your lungs and take as many puffs as you like.
You should know that there are 2 particular methods of inhaling vapour, called Mouth To Lung (MTL) smoking and Direct To Lung (DTL) smoking. Let's see what is the difference between the two and which one to choose when you start using e-cigarettes.
What is the right way to start vaping? Is cheek or lung smoking better?
Cheek shot (MTL) is characterised by a high-contrast, very tight intake in two stages: The vapour is first retained in the mouth and inhaled into the lungs a second later. It is therefore a shot in two different stages, as opposed to a lung shot.
In fact, the lung shot (DTL) is characterised by a very airy inhalation in one go: The vapour is inhaled directly into the lungs and does not remain in the mouth.
Where MTL requires a low wattage electronic cigarette and uses little battery and little liquid, DTL uses large amounts of liquid, requires a high wattage device and a powerful battery (in fact, it uses a lot of energy).
Between the two cited above, what is the best method for those who are starting to vaporise?
Definitely the cheek shot, which is reminiscent of inhaling the classic cigarette and is much less traumatic for the lungs than DTL.
Read also: Atomizer coil: prefabricated or regenerable?
In conclusion
Now you know exactly how to start vaping, what to do and how to make the most of your electronic cigarette. One more thing: the goal of those who start using an e-cigarette is to quit smoking…. But also to give up the harmful nicotine.
We therefore recommend, whenever you feel ready, to gradually reduce the amount of nicotine in the liquids you buy (the percentages can be selected when ordering), until you can buy liquids without this substance.
You will see that it will be incredibly satisfying, both for your mind and for your health!
Are you ready to buy the best products to start vaping? Then visit Terpy.com, our online shop all about the world of vaping!