Modified on: 23/08/2022
Here are all the tips you've been looking for to buy a quality slim e-cigarette
Today, there are electronic cigarettes of various sizes and with different characteristics. For example, there are large and powerful ones, medium-sized ones, and then there are pen-type ones, which are the most compact and discreet.
Usually, users wishing to buy a slim electronic cigarette are driven by different reasons, which can be summed up in a word: convenience.
However, as well as focusing on the size of a device, when choosing an electronic cigarette you should also pay attention to its features, as small size and elegance are not always synonymous with quality.
Below, you can find out how to find your way around the many vaping devices on offer to find an electronic cigarette that is small and of high quality.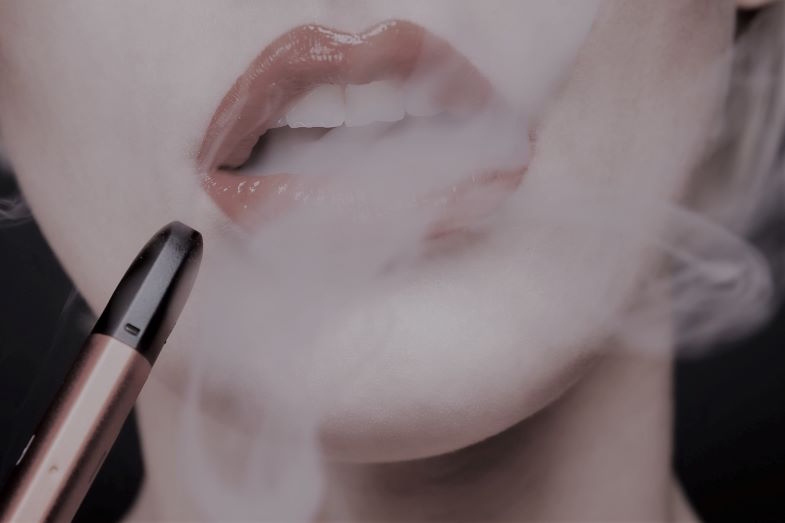 Slim electronic cigarette: who is it suitable for?
Small e-cigarettes are advantageous in many ways, but their main advantages are mainly that they are light and pocket-sized.
Putting a large e-cigarette such as a dual battery in your pocket is not at all comfortable, whereas carrying a small and slim cigarette such as a pod mod is a different story.
Therefore, a slim e-cigarette can suit those who often need to carry it in their pockets or handbags.
In addition to this, the advantages of small e-cigarettes include discretion.
At work or in more formal settings, you may want to vape inconspicuously, and a slim e-cigarette is easy to keep in your pocket, and even when pulled out for use, it has a more elegant design.
But are slim e-cigarettes suitable for everyone?
Considerable strides have been made in vaping devices manufacturing, many electronic mechanisms have been miniaturised. Hence, it is possible to find electronic cigarettes that are both small and high performance.
However, what should be made clear is that e-cigarettes of this type are usually best suited to cheek smoking or, at most, mixed smoking?
Suppose you love making significant, dense clouds of vaping liquids. In that case, you are aware that using a very thin e-cigarette will never achieve the performance that a box mod with a vast and powerful battery can offer!
Having made this critical clarification, let's get straight to the point.
Read also: How to choose the right "lung e-cigarette" for you
Slim electronic cigarette: how to enjoy comfort without sacrificing performance
When the electronic cigarette was first introduced, its appearance mimicked that of an analogue cigarette, and its purpose was to make it easier for smokers to quit smoking.
Over time, however, the vaping industry has evolved. In addition to ex-smokers, the electronic cigarette has won over a much wider audience, who enjoy making large clouds of vaporised e-cigarette liquids or enjoying vaping flavours of various kinds.
It is how new devices have emerged, differing both in features and size (think, for example, of dual-boxes).
Faced with this flood of vaping products, however, finding a small and powerful e-cigarette can be very complicated without the proper guidelines!
To avoid buying good-looking but poor-performing e-cigarettes, which would be discarded (as is the case with many), it is best to follow a few tips.
What are the ideal characteristics of a slim e-cigarette?
What you should check before buying is definitely:
the power;
the battery life;
the type of atomiser;
ease of maintenance.
Keep in mind that usually, the most powerful batteries and, in general, the most performing components are bulkier, so some small and thin e-cigarettes might have batteries that don't last long or be made to vaporise only tiny amounts of vape liquids. In short, they might not meet your expectations.
To avoid unpleasant surprises, check all the data in advance, considering your preferences. For example, try to understand what type of shot you can have (cheek or mixed), how many hours of autonomy you can enjoy, and how to assemble and disassemble them to clean the components.
Fortunately, it is no longer necessary to choose between comfort and performance. Technological innovation in vaping has allowed us to use electronic cigarettes that are small and compelling.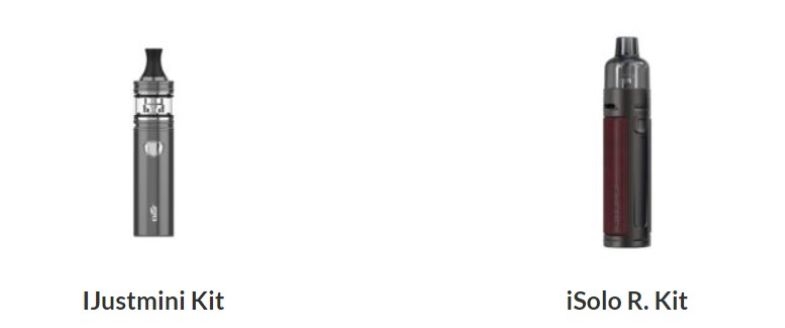 Choosing the best pen-based electronic cigarette: here are some examples
Having clarified the main features to check before buying a slim e-cigarette, it is now time to give you some ideas.
Here are some examples of small, high-performance e-cigarettes that you can find in our Terpy store:
IJustmini Kit
The I Just Mini is an electronic cigarette that is only 104 mm long by 22 mm in diameter and weighs only 90 grams. The compact size allows you to carry this e-cigarette with you at all times, and its sleek, understated design is perfect for any occasion. Thanks to the 1100 mAh battery, the device has a long battery life, and you can adjust the power to three levels and use two different resistances.
iSolo R. Kit
This small electronic cigarette has a unique and sophisticated design and has excellent features.
In just 118 mm in height and 27 mm in diameter, there is an 1800 mAh battery and a maximum power of 30 W, and it is possible to use three different types of coils: a perfect mix of power and compactness.
Read also: Is the electronic cigarette hot and burning your lips? Here's what to do
To conclude
As we have seen, you can now find small electronic cigarettes on the market that have little to envy to larger, bulkier ones.
To make the right choice, always check the device's characteristics that have caught your eye and never stop at just the size and appearance—this is the only way to ensure that you get the best vaping experience.
Now that you know how to move among the many proposals for small e-cigarettes, you have to visit our store and look at the many products dedicated to the world of vaping: choose from electronic cigarette flavourings, e-liquid base, liquid nicotine, e-cigarettes and much more …
We are waiting for you on Terpy.shop!