VG-Base
VG neutral base for electronic cigarette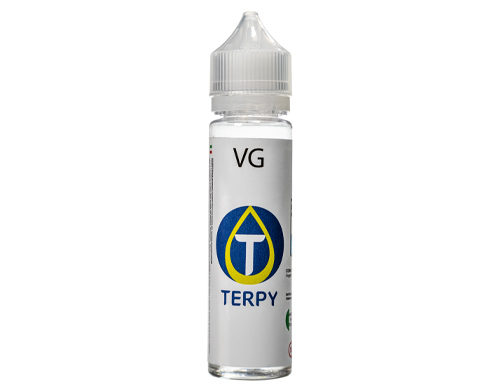 Starting from: 1,60€
Full VG neutral base
Vegetable Glycerol (VG), as well as Propylene Glycol (PG), is a preservative substance, used in the food sector and, of course, in the world of electronic cigarettes.
Vegetable Glycerol (VG) is the element that makes the liquid of the neutral base liquid more viscous and makes it very similar to an oil; it's possible to add it in the proportion you prefer to the Propylene Glycol (PG) in formats with a range from 60ml up to 1 liter. This component of the electronic cigarette liquids is what you need to achieve a nice moment of relaxation.
Once heated, the effect of a high proportion of VG is pure relaxation: even the steam will be dense, that it feels like you can touch it. For this reason, the base liquids with a high relative rate of vegetable glycerin are chosen by cloud chasers; those people who create figures with the vape!
The vegetable glycerol concentrate found in the Terpy shop can be diluted in your liquid, when the vaper wants to feel the flavours in a more delicate way and does not want a strong effect during inhalation.
All this comes together with the quality and safety guarantee of Terpy, which follows the production process from the start to the end, making sure that all precautions and legal requirements for trade in Europe are respected. You can be sure that you have bought the best product!