Modified on: 06/12/2022
Here are the 5 most popular vaping liquids in the terpy catalog.
If you are quitting smoking, choosing the right electronic cigarette flavours is essential for the success of your vape experience.
The use of the electronic cigarette is spreading more and more, because it does not generate bad smells and about health, it does not cause all the side effects of combustion.
In this article we want to talk about the most purchased flavours for electronic cigarettes on Terpy, ranging from tobacco to premium, fruity and bakery ones.
1) Aroma Tobacco Gold: for those who are quitting smoking but love the aroma of tobacco.
Among the most used electronic cigarette liquids on Terpy.es, there are certainly the tobaccos, which you can also find in a flavour version. Tobacco Gold is one of these and we could describe it as delicate and enveloping: much loved because it is characterized by a particular aftertaste of fresh tobacco.
In the "electronic cigarette flavour" sector, Tobacco Gold is one of the most popular choices by former smokers of Light and Gold cigarettes (its name comes from this). In fact, it has been designed to satisfy the palates of those who have decided to eliminate the damage of combustion, but cannot give up the typical light cigarettes aroma.
Another reason why this electronic cigarettes flavour is preferred to others is that its aroma is sweet and does not seem to be nauseating even if used for a long time, which is why one of the most popular formats is the 250 ml one.
If you too love the aromatic taste of fragrant and enveloping tobacco, which almost has grape-marc hints, the Tobacco Gold electronic cigarettes flavour is the most suitable choice for you.
Read also: The importance of resistance in the electronic cigarette
2) Fresh Pineapple: a sweet and fresh flavour for a vape that satisfies even the most difficult tastes
Among the novelties for mixing Terpy vaping liquids, one of the most successful vaping flavours of this season, is the Fresh Pineapple flavour, a mix of pineapple and freshly baked biscuit.
This unusual and surprising flavour combines the sugary sweetness of the cookie taste with the summer freshness of an exotic and bubbly fruit like pineapple.
A flavour that certainly does not go unnoticed and that can make your vaping unusual and fun. If you love unusual scents, neither too sweet nor too fresh, we are sure you will fall in love with it!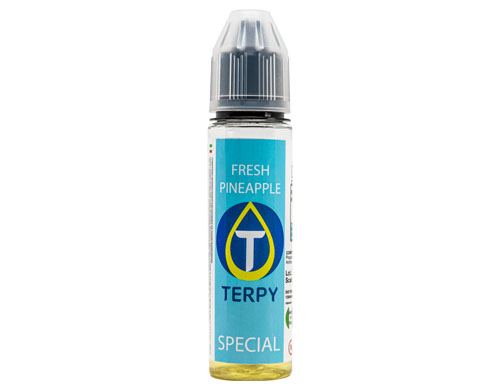 3) Red Berry: the vaping flavour loved by men and women.
"Red Berry" is one of the most popular Terpy flavours for electronic cigarettes because of its exceptional and particular nature, which can satisfy both male and female tastes.
Thanks to its sparklingness and sweetness at the same time it becomes a perfect product for all-day vaping. The Red Berry vape flavour is characterized by a sour note (much loved by men) and by the freshness of eucalyptus.
Vaping the Red Berry means savoring the particular palatability of red fruits, while simultaneously experiencing the sensation of eucalyptus on the palate.
One of the first thoughts that might come to your mind while vaping this flavour is a trip to the forest, with a basket full of blackberries, raspberries and wild strawberries.
Read also: Electronic cigarette without nicotine: 3 tips to say stop to addiction
4) Lemon Cake: ideal for those who love the genuine scents of childhood.
Lemon cake, custard … To whom do these words not bring to mind pleasant memories, perhaps connected to childhood?
We are talking about the Lemon Cake flavour, a flavour that has met with great success among our customers thanks to its pleasant, decisive and at the same time delicate and fresh character.
Lemon Cake is part of the category of bakery flavours and is widely purchased both in the winter period, due to the sweetish notes, and in the spring or summer period, because the freshness of lemon lends well even to the hottest periods.
It is an endless classic, appreciated by men and women who love traditional tastes that are always pleasant to try.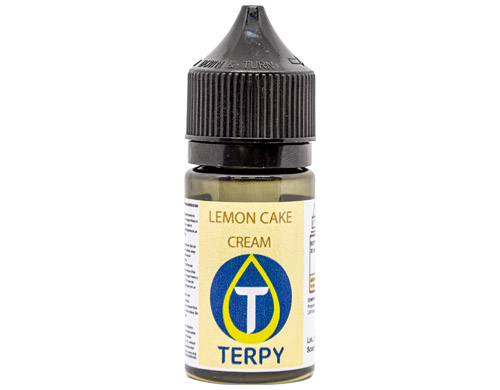 5) Tobacco Dark: the electronic cigarette flavours for those who prefer intense scents.
Let's go back to the category of tobacco flavours, to talk about a vape product that is highly appreciated by ex smokers who also love cigars: it is the Tobacco Dark flavour.
A vape flavour with a strong, intense and aromatic taste, which incorporates the notes of tobacco and partly recalls coffee and whiskey.
Tobacco Dark is particularly suitable for daily use, in fact, despite being decisive, it is not too intrusive or nauseating.
Final thoughts on the best selling vaping flavours on Terpy.
We have seen in the previous lines which are the 5 electronic cigarette flavours most purchased in the Terpy online store, but by browsing the various available proposals, you will find many other vaping flavours to try.
If you are quitting smoking, we recommend that you choose a product from the category of tobacco flavours, which is closest to the cigarettes you usually smoke.
If the taste of tobacco is not a necessity for you, you can have fun choosing from the numerous proposals of fruity, bakery and premium flavours.
Browse the Terpy online catalog today and take advantage of the convenience of choosing between card or cash payments when you pick up your package!