COFFEE CREAM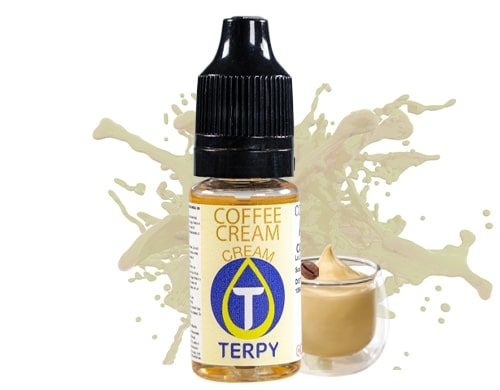 Starting from: 4,90€
Earth

Herbal

Sweet

Vanilla

Tobacco

Bitter

Gas-Cheese

Spice

Mint
BAKERY COFFEE CREAM
In the Terpy shop, you can find a flavour for electronic cigarettes with a taste very similar to the coffee taste. After intense studies and research, Coffee Cream was born, to honor the Italian tradition, which makes the preparation of this beverage an art.
The strong and bitter scent of the coffee bean remains, however, attenuated by a sweetish aftertaste, which makes the vape more pleasant and suitable for everyone. Therefore, the result is an enveloping, decisive taste, which fades into sweeter sensations, such as that of the coffee cream that is preferred on hot days, instead of the much-loved hot drink.
Savoring this product, it is like, as if by magic, you enter sleepily in a Neapolitan café, the jingle of the colliding spoons and cups is the background to the unmistakable smell of coffee, which comes out hot from the machine. The fragrance is enough to wake you from numbness and when the taste arrives to the palate, you are finally active. Next to the coffee, a pastiera rinses your mouth and softens the awakening. Now, you are ready to face the day. It is suitable for moments of break, for all people who love coffee, but cannot drink it too much; with this electronic cigarette flavour, you will have the opportunity to enjoy the same taste of coffee, without having to drink it.
It is suitable for daily use, it is almost always used as the main flavor during the day to replace the habit of drinking lots of coffee.