VAAL GLAZ 800 PEAR GRANADILLA
800 puffs of pure pleasure in pear and maracuja flavour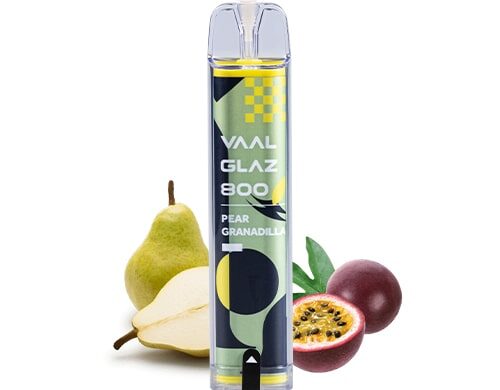 7,90€
Technical Specifications
Dimensions: Ø19.5 * 89 mm
Battery capacity: 400 mAh (Non-rechargeable)
Cartridge capacity: 2 ml
Nicotine strength: 17mg/ml
Type of draw: MTL (cheek)
Number of puffs: 800
VAAL GLAZ 800 PEAR GRANADILLA
The VAAL GLAZ 800 Pear Granadilla is a Vape Pen with a fruity and sweet flavour. This device is pre-loaded with a blend of high-quality flavourings that combine the juicy aroma of ripe pears with the exotic, sparkling note of granadilla.
The device's compact and elegant design allows you to take it wherever you go, and its light weight makes it easy to use and hold.
Advantages
The pre-filled tank contains 17mg/ml nicotine salts, guaranteeing a satisfying, sweet and fruity smoking experience with an exotic touch. If this is what you are looking for, the VAAL GLAZ 800 Pear Granadilla is the ideal choice for you.
Suitable for Beginners
The VAAL 800 device is designed to offer a cheek shot (MTL), which allows you to fully enjoy the blend of aromas.
Moreover, being a disposable product, it can be easily disposed of according to the regulations in force in your country.