ELFBAR 600 PINEAPPLE PEACH MANGO
600 puffs of pure tropical fruit flavour pleasure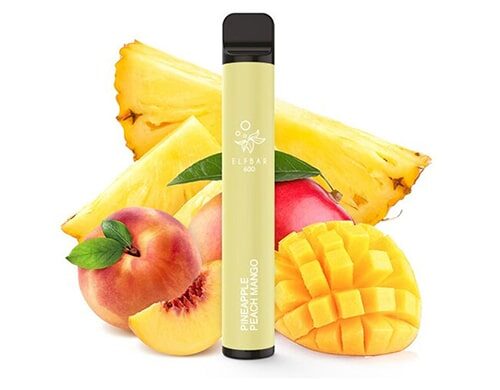 6,90€
Technical Specifications
Dimensions: Φ 16 x 104 mm
Tank capacity: 2ml
Battery: 550 mAh
Type of shot: MTL Automatic (cheek)
Number of puffs: 600
Nicotine concentration: 20mg/ml with salts
ELFBAR 600 DISPOSABLE POD
The Vape Pens with nicotine are ready to use thanks to a pre-filled 2ml tank of liquid containing nicotine salts at a concentration of 20 mg/ml, and equipped with a 550mAh battery offering up to 600 puffs, equivalent to more than 20 traditional cigarettes.
Advantages
Elfbar 600 Pineapple Peach Mango is the disposable electronic cigarette with nicotine salts, perfect for an unforgettable tropical experience!
Thanks to the Pineapple, Peach and Mango mix you will feel like you are on holiday on a Caribbean island.
Easy to use, maintenance-free and once the filler has run out, just follow your country's disposal regulations to dispose of it safely.
Order your Elfbar now and enjoy stress-free vaping!