VAAL GLAZ 800 MINT
800 puffs of pure pleasure with fresh mint flavour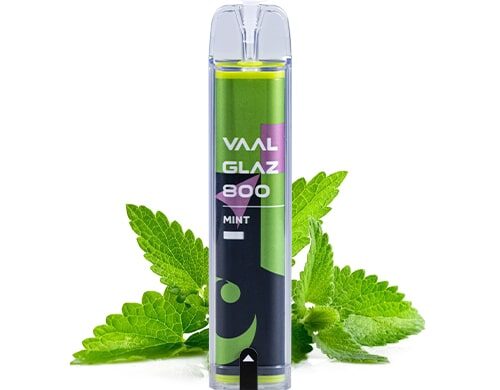 7,90€
Technical Specifications
Dimensions: Ø19.5 * 89 mm
Battery capacity: 400 mAh (Non-rechargeable)
Cartridge capacity: 2 ml
Nicotine strength: 17mg/ml
Type of draw: MTL (cheek)
Number of puffs: 800
VAAL GLAZ 800 MINT
The perfect Vape Pen for those seeking a fresh, intense and worry-free smoking experience. This device is pre-loaded with a high-quality flavour blend with the fruity and lively taste of the classic 'fruit punch', a refreshing fruit drink.
Its compact and elegant design and low weight make it one of the best products in its segment.
Advantages
The pre-filled tank contains 17mg/ml nicotine salts, guaranteeing a satisfying and intense smoking experience. With VAAL GLAZ 800 MINT, enjoy a unique and refreshing mentholated smoking experience at any time of day.
Suitable for Beginners
The VAAL 800 device is designed to offer a cheek shot (MTL), which allows you to fully enjoy the blend of aromas.
Moreover, being a disposable product, it can be easily disposed of according to your country's regulations.